| | |
| --- | --- |
| | Experience sea kayaking adventures with Altamaha Coastal Tours in one of the most beautiful and remote areas in the South East. Located near St. Simon's Island and 45 minutes South of Savannah, the Altamaha River BioReserve is a world of wilderness and natural wonder. Bottle Nosed dolphins, manatee, otters, alligators, deer, mink, eagles, osprey, and thousands of sea-birds make this area a best kept secret. Trips range from kayaking through black-water swamps of cypress knees and giant old growth forests to camping on deserted islands with white-sand beaches. Come explore for a half day excursion or get away for a multi-day adventure in what has been called a "The World's Last Great Places ". Kayak rentals and Guided tours are offered year round on the semi tropical Georgia Coast. |
Guided Tour per person
Kayak and Canoe


Explore River, Swamp, Marsh & Estuary.
$65 day trip - $150 camping (2 day 1 night)

Includes canoe, sit-in Kayak, sit-on-top kayak, tandem or solo canoe and shuttle.

Guided Bike Tour $40 except for Harris Neck and Blackbeard Island.
Rental Rates (Per Day)


Kayak $35 (solo) $60 (Tandem)
Canoe $50 (tandem)
Bike Rentals $15

includes paddle, life Jacket, skirt if needed
Rental does NOT include shuttle
shuttle costs vary per distances
Contact us, to set up your custom trip today!
Year Round Sea Kayak and Canoe trips are arranged with regard to Tides, Winds and Temperatures.

All trips scheduled with deposit. Visa and Master Card accepted

EMAIL: info@altamaha.com
or call 912-437-6010



Darien Area Road Map Southeast Georgia Road Map

Vast tracts of land, barrier marsh islands and swamps are protected by the federal and state gov'ts as well as the Nature Conservancy, corporate and private citizens. These combined areas are referred to by the Nature Conservancy as the Altamaha River Bio reserve. Another important link to the area's health is the Altamaha River Keepers.

A site of historical interest is the new site to the William Bartram Trail through the Southeast United States in the Mid 1700's. His travels through Georgia are a document describing in depth the Altamaha River and it's plants and animals before the settling of European settlers.

Buffalo Swamp- beautiful and easy paddling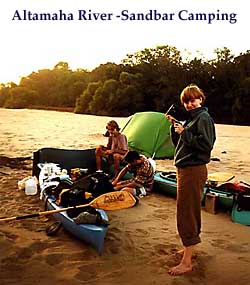 Wild and Scenic Off Shore Adventures
Kayaking through wilderness area includes the Lewis Island Natural Area,
a unique freshwater tidal swamp with virgin old growth giant cypress trees.
Perfect tide times are required for the long day trip to be successful or
an over night camping trip using the state approved primitive camping area,

Buffalo SwampĀfs Otter and Cathead Creek, our favorite half-day trips,
display the transition from the rare fresh water tidal swamp ecosystems
to the brackish then to salt marsh environment in an easy half-day paddle.

Wolf Island Wilderness Area, Blackbeard Island Wilderness Area as well as
offshore Queen Island and Sapelo Island have paddling & camping opportunities
but require either permits or permissions from property owners.

The sheer diversity of flora and fauna in the Altamaha RiverBioReserve allows
the visitor a variety of experiences and possibilities for wildlife sightings including
dolphin, otter, mink, wood storks, spoonbills>, swallow tail kites, osprey, bald eagles,
shore birds, night herons, painted buntings, raccoons, sea turtles, manatee,
and the top predator - the American Alligator.

Paddling through the wilderness areas on the Altamaha River, the tidal swamp
and marsh day trips or camping trip are available as guided and self-guided .

Over 120 miles of protected River corridor ends at Wolf Island,
a vast marsh island looking out onto the Atlantic Ocean.

Great fishing!

The Altamaha River access points
River Mileage Map.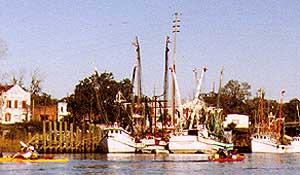 End of the journey at Darien's historic waterfront docks.


All Correspondence with U.S.Mail
112 Witcher Rd.
Carlton, Ga. 30627

Area land Maps

Darien Area Roads S.E. Georgia Road Topo Maps -Altamaha BioReserve River Mileage


Weather Maps

Coastal Weather / Savannah Temperature Forecast Surface Winds Forecast


Water Related

Altamaha River Level Tide Predictions at Sapelo Island



Places of interest:

Altamaha River BioReserve and Moodys Forest Preserve



Fort King George State Historic Site Hofwyle plantation State Historic Site

Sapelo Island Historical and Natural History Wildlife Refuges and Wilderness Areas



Accommodations
Open Gates Bed and Breakfast
912.437.6985

Fort King George Motel
912.437.4780

Hostel in the Forest - near Brunswick
912.264.9738

The Blue Heron Inn
912-437-4304



Broad River Outpost
Located on the eastern slope of the Blue Ridge Mountains,
the Broad River - in the Savannah River Valley -
is located 100 miles from Atlanta and 20 miles NE of Athens, Ga.