South Georgia's Wilderness Outfitters
Guided Kayak Adventures Choose from these destinations:
Day trips
Cathead Creek / Buffalo Swamp Natural Area - 3 hrs: This trip is great for beginners and experienced paddlers. You will paddle through globally rare tidal forest and old abandoned rice fields over grown with fresh water vegetation and teaming with wildlife. The abandoned irrigation canals provide miles of canoe trails and waterways. Alligators, night herons and ibis can be seen as well as dolphins and manatees during the warmer months. Old growth cypress, tupelo and wild flowers are some of the flora you will encounter and if your lucky you may see the endangered Swallow Tail Kite.
Lewis Island Natural Area - 6 hrs: This trip ventures six miles up the Altamaha River to Lewis Island, famous for having the largest known grove of ancient cypress in Georgia. You will walk among the giants to the center of the island where loggers where unable harvest the timber. We will stop at an old logging camp along the way, abandoned decades ago when conservationist stepped in to protect the remaining forest
Altamaha River - 3 hrs: Experience Georgia's mightiest river the Altamaha. This trip leaves from Barrington Park where we pass by the site of Ft. Barrington, a colonial frontier outpost and then explore the river swamp with century old Tupelo trees. You'll have a chance to ascend one of the many sand hill bluffs rising above the Altamaha providing amazing vistas.
Altamaha River Delta - 4 hrs: Where the river meets the sea. This trips leaves from the Butler Island Plantation and takes you across the many waterways that make up the Altamaha Delta. Freshwater and saltwater species abound in this wilderness wonderland. On Broughton Island you will see an eagles nest and take a break on one of the many sand bars between Rhett and Butler islands.
Rifle Cut - 4 hrs Strait as a rifle shot through the cypress swamp and just as narrow, Rifle Cut was dug in the 1820s by slaves to shorten the river route for boat traffic bringing timber, tobacco and turpentine to the warehouses of Darien. Now abandoned for over a hundred years only paddlers venture through the historic canal overgrown with freshwater vegetation.
Blackbeard Island Legend has it that the infamous pirate Edward Teach aka Blackbeard has buried treasure on the island. The U.S government originally purchased the island in the early 19th century for the timber to build naval ships. It was used as a quarantine station in the late 1800s and is now one of the oldest national wildlife refuges in the country, established in the 1920s. Explore the maritime forests and bone yard beaches on this very remote barrier island. This trip is for experienced paddlers only with a minimum of a twenty mile round trip. This trip can also be done as a self guided trip. Tides and winds make this our most difficult trip. Please call for details and availability.
Self Guided Tours - Half Day and Full Day Trips: Altamaha Coastal tours offers shuttle service for a half day trip Cathead Creek (8 miles) and a full day trip down the Altamaha River (15 miles). When the tides are right there are several trips available right from the downtown area of Darien. Call for details and tide information.
The Altamaha River/ the Full Monty: 1 to 30 days The river system is comprised of hundreds of miles of free flowing water as well as picturesque tributaries such as the Ohoopee, Oconee and Ocmulgee rivers. From Atlanta to the Sea

Extended trips of days or weeks can be arranged. Great 50+ milers for the Boy Scout Troops which can include bicycles.
Rental Rates (Per Person / Day)


Kayak $35 (solo) $60 (Tandem)

Canoe (tandem) $50

Bike Rentals $15

includes basic accessories - does not include shuttle
Guided Kayak Adventures


Choose between swamp, marsh and ocean trips. Starting at $65/day; $150 overnight (2 day)

Includes accessories, any type of boat and shuttle.

Guided Bike Tour $35 except for Harris Neck and Blackbeard Island.
Contact us, to set up your custom trip today!
Year Round Sea Kayak and Canoe trips are arranged with regard to Tides, Winds and Temperatures.

All trips scheduled with deposit. Visa and Master Card accepted

EMAIL: info@altamaha.com
or call 912-437-6010



Darien Area Road Map Southeast Georgia Road Map

Vast tracts of land, barrier marsh islands and swamps are protected by the federal and state gov'ts as well as the Nature Conservancy, corporate and private citizens. These combined areas are referred to by the Nature Conservancy as the Altamaha River Bio reserve. Another important link to the area's health is the Altamaha River Keepers.

A site of historical interest is the new site to the William Bartram Trail through the Southeast United States in the Mid 1700's. His travels through Georgia are a document describing in depth the Altamaha River and it's plants and animals before the settling of European settlers.

Buffalo Swamp- beautiful and easy paddling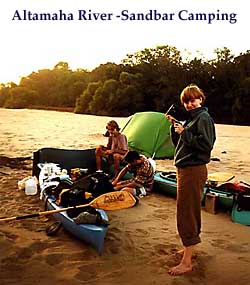 Wild and Scenic Off Shore Adventures
Paddling through this wilderness area includes the Lewis Island Natural Area, a tidal swamp with old growth cypress, Wolf Island Wilderness Area, Blackbeard Island Wilderness Area as well as the offshore Queen Island and Sapelo Island. Buffalo Swamp and Cat head Creek displays the transition from Tidal Swamp to Marsh in an easy half-day paddle.

The sheer diversity of flora and fauna in the Bio reserve allows the visitor a variety of experiences and possibilities for wildlife sightings including dolphins, otter, wood storks, osprey, bald eagles, many shore birds, raccoons, sea turtles and the top predator - the American Alligator. Paddling through the wilderness areas on the Altamaha River, the tidal swamp and coastal marsh as day trips or as extended camping trip are available as guided and self-guided .

Over 100 miles of protected River corridor upstream ends at Wolf Island, a vast marsh island looking out onto the Atlantic Ocean. Great fishing! The last hundred miles of the river access points with a River Mileage Map is listed .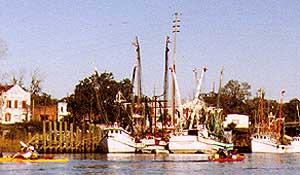 End of the journey at Darien's historic waterfront docks.


All Correspondence with U.S.Mail
112 Witcher Rd.
Carlton, Ga. 30627

Area land Maps

Darien Area Roads S.E. Georgia Road Topo Maps -Altamaha BioReserve River Mileage


Weather Maps

Coastal Weather / Savannah Temperature Forecast Surface Winds Forecast


Water Related

Altamaha River Level